Clean Marin
There's no shortage of green community projects aimed at protecting nature, whether it's wildlife or wild places. You can clear and maintain hiking trails in parks, count birds for wildlife inventories, plant trees, and so much more. Where there are creeks and canals, areas of common land, pathways, and parks, there are clean-up projects. Waterways in particular seem to be magnets for plastic bags and other trash, but vacant lots and public lands can become dumping grounds, too. Cleaning these areas up has many benefits: You're protecting animals, fish, birds, and plant life from the risks that the trash brings, and you're also sending a message to other people that someone cares about this piece of water or land — that it's not a place to dump their unwanted items. Many community cleanup activities have a social benefit, too: You're out with your community, finding like-minded people and possibly making great friends! That's why projects such as these are excellent for everyone — families, single people, and groups of friends or coworkers.
Action Teams and Programs
Marin Clean Effort
We would like to support and encourage all of the efforts in Marin that keep it clean and healthy. If you have a project or event that you would like to share on this page please send your information, calendar dates, web address, facebook page, or other using the links on the Contact page.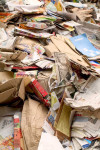 Paper can be recycled only six times. After that, the fibers are too weak to hold together. Recycling one ton of paper saves 17 trees, 2 barrels of oil, 4,100 kilowatts of energy, 3.2 cubic  yards of landfill space and 60 pounds of air pollution.