This is a program that already has growing success in parts of Marin! Building off the almost 10 years of experience from San Rafael Clean's – San Rafael Clean Business Program and using the model from Clean Mill Valley's – Mill Valley Merchant Program that partners with students from Greenwood School to help sign up businesses, this is a great example of how we can all come together to reduce trash in Marin!
The program is being implemented everywhere in Marin even if your city, town, or community doesn't have an established Clean Program yet. Together we're looking to expand the Clean Business Program into thousands of businesses countywide!
So Take the Pledge!
Our company pledges to protect the environment by making this Clean Business Commitment. We believe a successful business helps to keep our streets clean and litter-free for our community and the environment. We will actively work to show our environmental responsibility to our community by committing to the following objectives:
Prioritize environmentally friendly, anti-litter practices
Keep our business clean and free from debris by routinely sweeping the sidewalks and removing litter from my landscaping and public area surrounding our business
Have adequate trash and recycling bins and garbage service pick-up for our business functions and customers
Keep dumpster lids closed at all time and empty outdoor trash cans regularly
Commit to a recycling sorting program, and separate out recyclables from the landfill trash can
Educate our employees about proper sorting and disposal of trash and the need for a Clean Business, and assign one or more employees to sweep and pick up litter surrounding the business
Acknowledge my participation as a Clean Business to my employees, business partners, customers, and the general public by displaying brochures, window decals, or other Clean Campaign marketing materials provided, if feasible
Report excessive litter, lack of street sweeping, overflowing garbage cans, or other relevant trash problems to the city, town, or county, and my local Clean Program
Please read the Clean Business Program cover letter and then print and sign the Pledge (e-form coming soon!).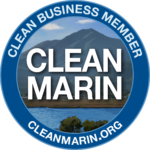 Partner Programs
If you're in the cities of San Rafael or Mill Valley then you can sign up directly by clicking on your local Business/Merchant program above.