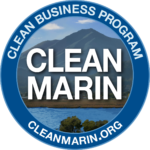 How important is it to your business to have a litter free environment?
Make the commitment and take an active part in keeping your community clean!
This is a free program and together we're looking to expand the Clean Business Program into thousands of businesses countywide!
Overview
Clean Business Pledge
Member Benefits
Sign Up Now!
Program Overview
Clean Marin is a coalition of environmental organizations, municipal and county agencies, local businesses and individuals working together to create a litter-free Marin. The Clean Business Program urges businesses all over Marin County to join the program and make a commitment to adopting litter-reducing practices into their establishments.
Waste, and especially litter, have major negative effects on our communities and the environment.
Any litter originating from your business has the potential to enter the environment through storm drains, wind dispersion, and scavenger birds and animals. Not only is littering a violation of your municipality's Urban Runoff Pollution Prevention ordinance, it can also lead to clogged storm drains; the degradation of local creeks, bays, and the ocean; and cause harm or death to fish and other wildlife. Waste is also a major eyesore and makes our streets dirty and unappealing. Doing our best to manage waste correctly will significantly limit these impacts, as well as allow materials such as plastics to be disposed of responsibly.
Marin residents value and prioritize businesses that uphold environmental standards.
By joining the Clean Business Program and promoting the simple, litter-free practices you can show your customers that you are an active member of the community and invested in the health of our neighborhoods and the environment.
A small investment for the environment comes with long term returns.
The Clean Business Program asks that businesses commit to maintaining the outside of their property, both front and back. This includes sweeping the sidewalk in front of the property, maintaining behind your business (loading docks, alleys, dumpster areas), providing proper waste and recycle bins for your customers, and educating staff and customers on proper sorting of recyclable and compostable material, such as through visual aids. In return, businesses will receive publicity for being a Clean Business through the Clean Marin website and Facebook page and get to display the Clean Marin window sticker in their store fronts.
Join the Clean Business Program and distinguish your business as a responsible, environmentally conscious, and valuable part of the community's well-being.
The Clean Business Pledge
Our company pledges to protect the environment by making this Clean Business Commitment. We believe a successful business helps to keep our streets clean and litter-free for our community and the environment. We will actively work to show our environmental responsibility to our community by committing to the following objectives:
Prioritize environmentally friendly, anti-litter practices
Keep our business clean and free from debris by routinely sweeping the sidewalks and removing litter from our landscaping and public area surrounding our business
Have adequate trash and recycling bins and garbage service pick-up for our business functions and customers
Keep dumpster lids closed at all times and empty outdoor trash cans regularly
Commit to a recycling sorting program, and separate out recyclables from the landfill trash can
Educate our employees about proper sorting and disposal of trash and the need for a Clean Business, and assign one or more employees to sweep and pick up litter surrounding the business
Acknowledge my participation as a Clean Business to my employees, business partners, customers, and the general public by displaying brochures, window decals, or other Clean Campaign marketing materials provided, if feasible
Report excessive litter, lack of street sweeping, overflowing garbage cans, or other relevant trash problems to the city, town, or county, and my local Clean Program
Agree to use the "Litter Reviews" from our listing as constructive feedback on how we are doing as a Clean Business
Benefits to becoming a Cleaner Business!
Window decal(s) to display at your business(s) showing your status as a Clean Business
Your logo or image, business name, and additional business information displayed with other Clean Businesses on our interactive map, the Clean Business Members Directory, and your own individual page
Listings in printed materials and on social media outlets with Clean Marin and its partners
You can be proud that your business uses the best practices to dispose of trash, recycling, and compost – you're a leader in the green movement!
Showcase to customers and other businesses that you contribute to a litter free Marin!
Additional promotion of businesses that have a clean story to share with us that goes above and beyond!
Sign Up Today!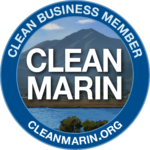 Signing up is as easy as reading and agreeing to follow the Clean Business Pledge. You can either print out and sign the Clean Business Pledge, or fill out our new online form!